Tetrarch Launches Into 2021 With "Best Of" Nominations, Radio Success, Virtual Concerts, And More…
TETRARCH is on the move into 2021!
Breakout Single "I'm Not Right" Reaches #27 on
Mediabase Active Rock Charts
SiriusXM Next Wave Virtual Concert Series Performance Announced
Nominated in "Best Metal Guitarist of 2020" Poll via Music Radar
Sophomore Album, Unstable, Coming Soon via Napalm Records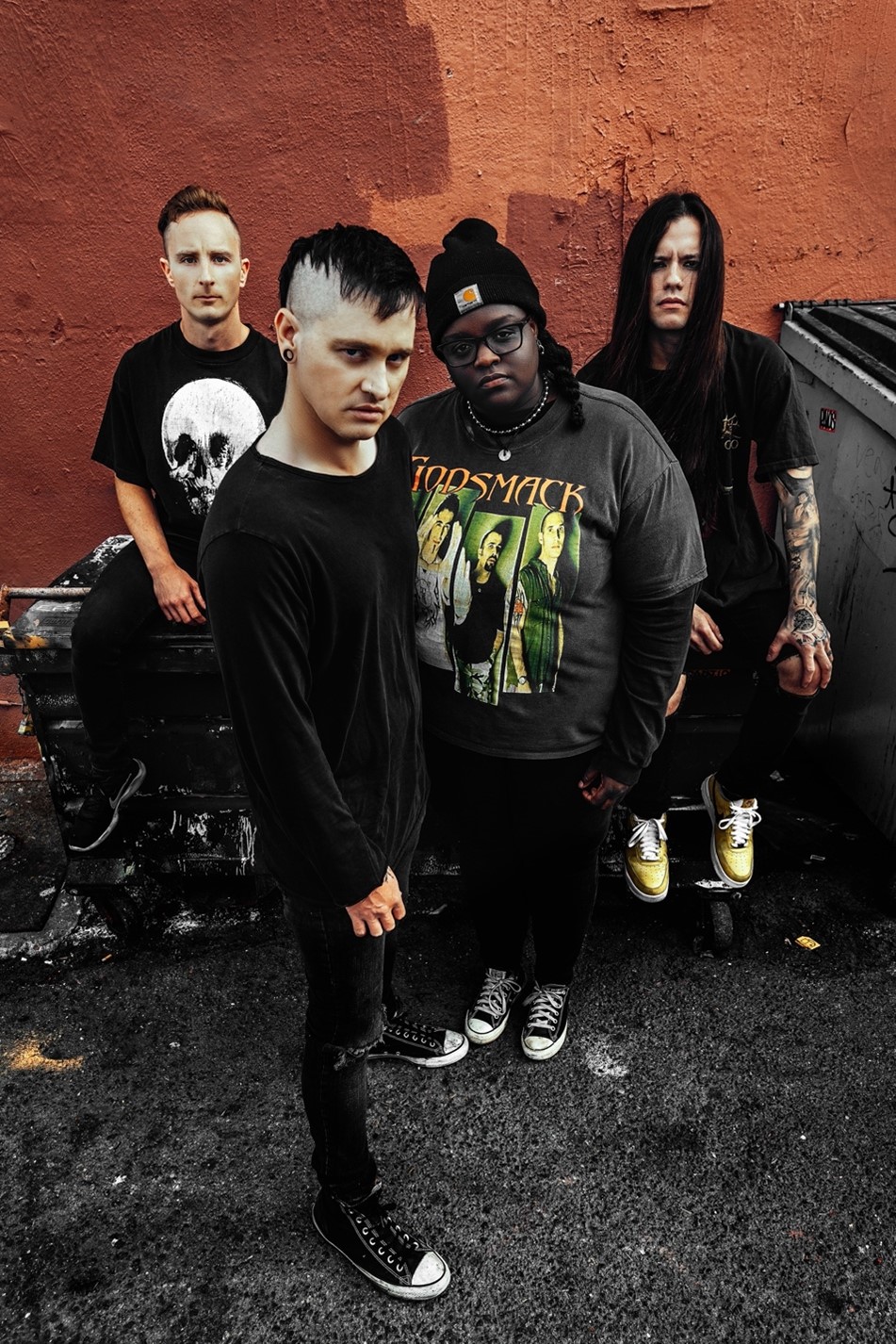 This year, the music industry experienced arguably its toughest year yet, battling many setbacks and standstills. But the tenacious, hardworking TETRARCH refuses to waver – remaining on the move upward into 2021 with colossal achievements in tow!

TETRARCH closes out 2020 with a promising triumph – reaching #27 on the Mediabase Active Rock charts with their hit single "I'm Not Right". Just two months ago, the Los Angeles-based four-piece reached the Top 40 and have remained a force to be reckoned with since, surpassing countless noteworthy contemporaries as they climb.
The steadfast trajectory of "I'm Not Right" at radio matches its impressive streaming numbers and the official music video's YouTube views – with both boasting over 1.5 million streams and views individually and respectively. The track also held fast on SiriusXM Liquid Metal's "Devil's Dozen" for a staggering three months! Likewise, SiriusXM's rock channel, Octane, has been a huge supporter of the band, recently surpassing the 500 spin mark.
More news on the SiriusXM front – just announced, TETRARCH will have a special performance showcased as part of the SiriusXM Next Wave Virtual Concert Series! The Liquid Metal Hard Attack Virtual Concert will feature TETRARCH's performance, as well as performances from other artists, and debuts on December 14 at 6:00PM ET on Liquid Metal. For a full schedule and re-broadcast dates, click 
HERE
.
In addition to these successes, TETRARCH lead guitarist Diamond Rowe and frontman/guitarist Josh Fore have both been nominated for Music Radar's "
Best Metal Guitarist of 2020
" accolade. The deft duo is nominated alongside guitar greats Mark Morton, Willie Adler, Matt Heafy, Robb Flynn and many more.
Lead guitarist Diamond Rowe says:
"We are thoroughly impressed with the year that we have had in the TETRARCH camp. 2020 has not been the best year for artists, but we have always been a band that tries to go out and make our own opportunities when circumstances may not permit and that's just what we did with this year. I am extremely happy with what we achieved and it's only a foreshadowing of what's to come. We have so much in store for 2021 and we cannot wait to unleash this monster of a new album on the world."
Experience TETRARCH via the official music video for "I'm Not Right" 
HERE
TETRARCH's upcoming album, Unstable, is coming soon! The album was recorded earlier this year with producer Dave Otero (Cattle Decapitation, Allegeon, Khemmis) and is due for release via Napalm Records, whom the band signed with in 2020.
Fierce individuality and a fearless embrace of the outsider are at the heart of TETRARCH, a band equally defined by metallic power and melodic hooks. Seamlessly blending technical chops and aggressive ferocity with menacing groove and massive choruses, TETRARCH obliterates musical barriers. The band's tireless hard work and relentless determination has established them as one of the top up-and-coming bands in heavy music, catching the attention of major media including Pollstar (cover mention), Billboard, Revolver, Alternative Press, Guitar World, Guitar Player, Premier Guitar, Kerrang! and Metal Hammer, many in which lead guitarist Diamond Rowe was the first African American female lead guitarist from the heavy metal genre to be featured. As of today, TETRARCH boasts over 180,000 monthly streams on Spotify, where they've been featured on playlists such as Kickass Metal, Rock Hard, New Blood (cover featured), Metal Tracks and more. The band has also seen stellar support from Apple Music and their users, appearing on several playlists and seeing their debut full-length, 2017's Freak, emerge at #3 and #17 on the iTunes Metal and Rock charts, respectively. Having appeared on major festivals such as Epicenter and Exit 111, TETRARCH will charge back into the major touring scene upon its resurgence with renewed persistence and the mighty nonconformist's spirit that has driven them since day one.